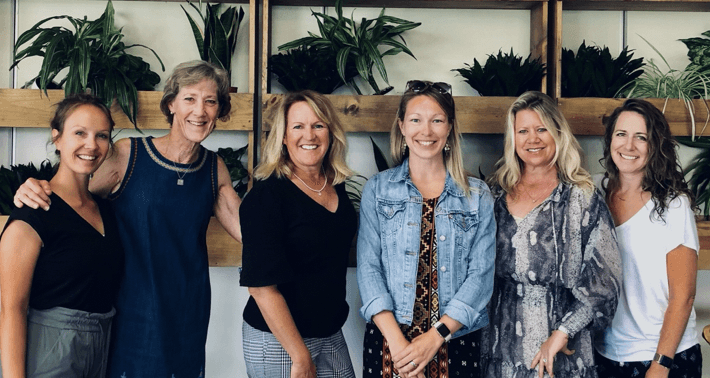 Get your corsages and boutonnieres ready! This year's Coronado Schools Foundation (CSF) Gala is back at the Hotel del Coronado and breaking out the punch bowl, dusting off its dancing shoes and ditching the chaperones to head "Back to Prom." This annual event is presented by Donna Salof for the fifth year in a row. 
This year's extravaganza, co-chaired by Salof and Alexis Reitmeyer, is a chance to get gussied up in your best tux and gown to dance the night away on Saturday, October 23rd at 5pm in the Grand Ballroom, all to raise money for our students. All proceeds benefit Coronado's public schools through CSF. While there's no need to redo your perm or grow back your mustache, guests are encouraged to embrace the theme and put on their prom best from any decade! 
However, this year's theme isn't just for the sake of nostalgia…it's also a way to honor and celebrate all of the CHS alumni who have continued to support their hometown schools long after their own Proms, whether it be through their donations, time or talents. CSF-funded STEM & Arts Programs, provided to all 3,000+ students enrolled in Coronado schools, helped fuel the success of many of these alumni, who are now eager to pass on that gift of exceptional education. 
"Remember the days? I do! One of the best nights was Prom," said Chris Clements of The Clements Group Real Estate Team. "As a matter of fact, I'm still happily married to my Prom date! Now maybe more than ever our incredible schools need the support of our community to educate our children & empower them to grow up respectful, strong, caring and hungry to learn and improve their lives and those around them. We are always happy to support Coronado & CSF." Thanks to The Henry Restaurant of Coronado and The Clements Group Real Estate Team for sponsoring the live music for this event. 
What Prom would be complete without a little dance competition? Whether you dance the Jitterbug, the Hustle, or anything in between, you're invited to join the live Dance Competition sponsored by Ken Morris, Merrill Lynch Wealth Management Advisor. Email csf@csfkids.org to be entered to show us your best Prom moves! Up to five couples/groups will be chosen to perform live during the "Back to Prom" event. 
The very popular Online Auction, sponsored by Mary Jo Morgan, will launch October 14th and remain open for bidding until Nov. 1st, offering tons of great local deals & steals! Donations are still welcome- just email csf@csfkids.org to submit your gift, experience or getaway and in return, you'll receive great exposure for your business. The auction has over 800 users each year and raises over $50,000, all in support of our students. No donation is too big or too small (but it does have to be brand new).
This annual event wouldn't be possible without our generous local sponsors! CSF would like to thank Donna Salof, our Presenting Sponsor, Mary Jo Morgan, the Hotel del Coronado, The Clements Group, The Henry, Pacific Western Bank, Thrasher Pest Control, Alan Kinzel Realty Group, Coronado Bliss Salon, Spiro's Greek Café, Clarke Construction, Ken Morris Wealth Management Advisor, IVT Yacht Sales, Parakeet Café, Mullins Orthodontics and MRV Las for their continued support. 
Finally, don't forget to invite that special someone with a heartfelt "Prom-Posal" on Facebook and Instagram! Be sure to post your video or pics with this year's hashtag #CSFBack2Prom. 
CSF and the Hotel del Coronado will be following all COVID-19 protocols to protect the health and safety of our guests. 
#CSFBack2Prom