JOIN CSF AS A BUSINESS PARTNER IN EDUCATION TODAY
Business support provides essential financial funding for our schools, which ensures direct support for teachers, programs, and enrichment opportunities at each campus.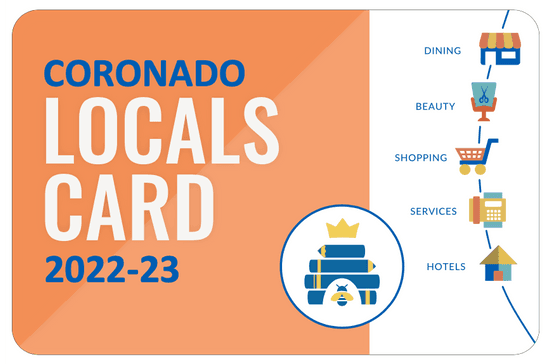 CSF values the support of its Business Partners and encourages the community to support them in return.
Businesses can join our popular Coronado Locals Card Program at any time during the year.
Questions? Contact us today at 619-437-8059 ext 1 / csf@csfkids.org
BUSINESS & COMMUNITY PARTNERS 2021-22
LEGACY PARTNER

Spiro's Greek Café, Dr. & Mrs. Spiro Chaconas
Margaret West

FOUNDATION PARTNER: $50,000+

California American Water, Mr. Brian Barreto
The Lipp Family Foundation
Vivien A. Nelson Foundation, Robert T. Plumb, Trustee

SUPERINTENDENT PARTNER: $10,000 - $49,999

Albertson Vons Foundation
Amritam Foundation, Jim & Kelly O'Connor
Boney's Bayside Market, Ms. Debi Boney
Coronado Chamber of Commerce
Garage Buona Forchetta, Mr. Matteo Cattaneo & Mr. Marco Zannoni
Hotel del Coronado, Mr. Harold Rapoza, GM
Inberla LLP
Alan Kinzel, Realtor, Compass
Mary Jo Morgan, Realtor
Mullins Orthodontics, Dr. Joseph M. Mullins
Nicolls Design Build, Mr. Kraig Nicolls

DISTRICT PARTNER: $5,000 - $9,999

The Allan & Lyndsey Arendsee Foundation
Cavanaugh Construction
Clarke Construction, Kristen & Trevor Clarke
The Clements Group, Lennie, Jan & Chris Clements
Coronado Bliss Salon
Coronado Junior Woman's Club
Coronado Psych, Dr. Rika Tanaka, PhD
Flagg, Inc.
Flagship Properties
Fox Restaurant Concepts, The Henry
Katie Herrick Group Real Estate
Molly Haines McKay, Broker Associate Berkshire Hathaway
Thrasher Termite & Pest Control
Willis Allen Real Estate

SCHOOL PARTNER: $1,500 - $4,999

Buchalter
Clayton's Coffee Shop
Considine & Considine
CMG Mortgage
Coronado Karate, Sensei David Adams
High Tide Bottle Shop & Kitchen, Mr. & Mrs. Tom Latona
IVT Yacht Sales
la mer
Merrill Lynch, Ken Morris, CFA, CFP
Pacific Western Bank
Park Life Real Estate
Rotary Club of Coronado
San Diego Golf Carts
Sweat Circuit, Nick & Liz Merrill

CLASSROOM PARTNER: $500 - $1,499

American Society of Assocation Executives, Mr. Scott Oser
Christ Church Thrift Shop, Mrs. Vicki Morris
Coronado Schools Lacrosse
Coronado Community Foundation
Crown City Photography, Mr. Bill Sandke
Esthetica Of San Diego, Wael Kouli M.D.
Glorietta Bay Inn
Homescape Inspections, Kevin& Lisa Brenden
Jazzercise Coronado
MRV Law Inc, Mr. Mark Vonderhaar
Parabolic Asset Management, Rainier Trinidad
Sandcastle Homes, Mark & Susan Hunt
Sempra Employee Giving Network

PARTNERS: UP TO $499

Andersen Corporation
Coronado Art Association
Creative Affairs, Inc., Ms. Amanda McPhail

*List updated September 1, 2022