JOIN CSF AS A BUSINESS PARTNER IN EDUCATION TODAY
Business support provides essential financial support for our Site Grants, which provide direct support for teachers, programs, and enrichment opportunities at each campus.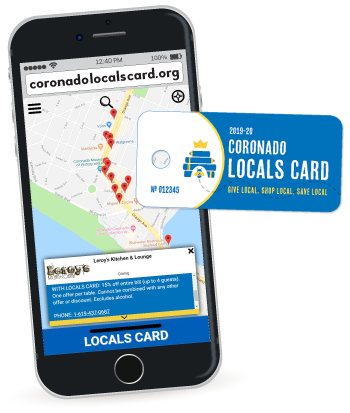 CSF values the support of its Business Partners and encourages the community to support them in return.
Businesses can join our popular Coronado Locals Card Program at any time during the year.
Real estate business partnerships are also available, please visit our CSF Realtor Partnerships page for more information.
Questions? Contact us today at 619-437-8059 ext 1 / csf@csfkids.org
BUSINESS & COMMUNITY PARTNERS 2018-19
LEGACY PARTNER

Frances G. Harpst
Jill E. Hardman

FOUNDATION PARTNER: $50,000+

The Lipp Family Foundation
Hotel del Coronado
Mrs. Donna Salof

SUPERINTENDENT PARTNER: $10,000 - $49,999

Alan Kinzel Realty Group
The Amritam Foundation, Jim & Kelly O'Connor
Blue Bridge Hospitality
Loews Coronado Bay Resort
Dr. Wael Khouli, Esthetica of San Diego
Mary Jo Morgan, Realtor
Mexican Village Cocina y Cantina
Mullins Orthodontics
Nicolls Design-Build
Vivien Nelson Foundation, Robert T. Plumb, Trustee

DISTRICT PARTNER: $5,000 - $9,999

Boney's Bayside Market
Buona Forchetta, Mr. Matteo Cattaneo
California American Water
The Clements Group, Berkshire Hathaway
Coronado Junior Woman's Club
Creative Affairs, Inc., Ms. Amanda McPhail
Isabella Avenue Dentistry, Drs. Leslie & Scott Strommer
The Lektorich Family
Liberty Call Distilling, Bill & Fran Rogers
Manchester Grand Hyatt San Diego
Pichney Vonderhaar LLP
Spiro's Greek Café, Dr. & Mrs. Spiro Chaconas

SCHOOL PARTNER: $1,500 - $4,999

Bosworth Dental Arts Group, Dr. & Mrs. Robert Bosworth
Cavanaugh Construction, Dana & Renee Cavanaugh
Chabad of Coronado
Christian Rice Architects, Inc
Clayton's Coffee Shop & Mexican Take-out
CMG Mortgage, Kory Kavanewsky
CalPrivate Bank
Compass, Kari Lyons
Coronado Hardware Glass & Paint
Coronado Pediatric Dentistry, Dr. Howard Dixon
Coronado Smiles Dental, Dr. Katayoun Afshar
Coronado Times, Mr. Steve Johnson
Cotier
Del Mar Thoroughbred Club
Delano Las Vegas
Gelato Paradiso, Ms. Petra Cornelius
la mer, Mary Ann Berta
The Law Office of Terry J. Chapko, Mr. Terry Chapko &Ms. Paige Shuman
Mandalay Bay Resort & Casino
Ms. Adrienne Miller
Navy Federal Credit Union
Orion Capital Management LLC
Pacific Western Bank
Rotary Club of Coronado
Skylark Winery, Mr. Robert Perkins
Unanet, Mr. & Mrs. Chris Craig
Mr. & Mrs. Ian Van Tuyl
Vintage Cinemas, Inc.
Weimann Design
Willis Allen Real Estate

CLASSROOM PARTNER: $500 - $1,499

5ive Tool Baseball, Coach Jared Eichelberger
Ankle Breakers Soccer
Avenu Boutique
Brady's Menswear
Bridget Carlson, Pacific Sotheby's International Realty
The Brigantine Family Of Restaurants
Chisholm Mickel Team
Coronado Brewing Company
Coronado Fitness Club
Coronado Island Marriott And Spa
Coronado Training Center
Coronado Yacht Club
Coronado Pop Warner Youth Football & Cheer
Coronado Youth Soccer League
Daryl Catherwood, DDS
Dollie Style & Accessories
Elite Escrow
Emerald City, Adrienne & Kelly Kraus
Ms. Jill Esrock
Jane Braun, CFP
Joan C. Fahrenthold Photography
The Gensler Group
Get Organized
High Tide Bottle Shop & Kitchen
Holland's Bicycles
In Mid-Life Crisis
Isle Surf & Sup
Jazzercise Coronado, Ms. Leanne Anderson
Katie Herrick Real Estate
The Koop Group
Law Offices of Peter Jensen
Liberty Fiduciary Services, Inc
Martial Arts America
Loews Hollywood Hotel
Manning Wealth Management
Margaret Meadows DDS
Molly Haines McKay, Broker Associate Bershire Hathaway
Natalie Falletta Skin Care
New York Hilton
Nicky Rotten Investment Group
O'Connor Capital Management
Potter Chiropractic, Paul Potter, D.C.
Proteus Fitness & Training
Purple Paws Pet Clinic
Q Star Charters
Raindrop Marketing
Root 75
San Diego Padres
San Diego Sky Tours
The Law Offices of Margaret Tami Sandke
Trasher Termite & Pest Control
The University Club Atop Symphony Towers
YMCA Camp Surf

PARTNERS: UP TO $499

Charisma
Coronado Veterinary Hospital
Crown Cleaners
CrunchTime Popcorn & Ice Cream
Fidelity National Title Company
First American Title Insurance Company
HRO2GO
Lobster West
Lutz Tire & Auto Repair
Parabolic Asset Management
Results Rehabilitation Inc