Make Your Annual Gift A Forever Gift!

Join the Islander Society

Annual gifts to the Coronado Schools Foundation are crucial for us to fuel STEM Innovation (science, technology, engineering and math) and the Arts (visual and performing) Pathways within the Coronado Unified School District. Coronado's 3,100 public school children deeply appreciate and count on these gifts.  

As you look to leaving a legacy for generations to come, have you considered how you can ensure your generosity continues to fuel these programs and pathways in for generations to come?  By including the Coronado Schools Foundation in your will or trust through our endowment, you will do just that!  
As an example, let's say Mary and Tom make an annual gift of $1,000 and would like to continue their support after their lifetime. By including a provision in their will or trust to fund an endowment gift of $25,000, their generosity will live on, with CSF returning a portion annually (4-5%) to fund programs/pathways. The remainder is reinvested, which allows the corpus to grow and support annual payouts indefinitely. This generous arrangement replaces Mary and Tom's $1,000 annual gift after their lifetime. As a result, Coronado Unified's students will benefit from their generosity for years to come. And, Mary and Tom will be honored in their lifetime as Islander Society members and celebrate with annual events.
---
LEARN MORE ABOUT CSF LEGACY GIVING
If you would like to extend your support of Coronado's public school children through the Coronado Schools Foundation to make a lasting impact, there are several gift arrangements to choose from.
Whether you would like to put your donation to work today or benefit us after your lifetime, you can find a charitable plan that lets you provide for your family and support the work of CSF, benefiting Coronado's 3,200 public school children.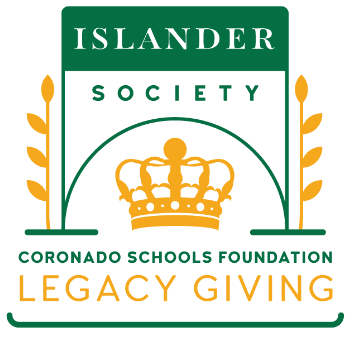 ---
Please consider designating an endowment gift to the Coronado Schools Foundation in your will/trust. You can find more information here:  csfkids.planmylegacy.org/wills-and-living-trusts
You can also e-mail CSF if  you'd like more information: legacy@csfkids.org or all 619-437-8059.