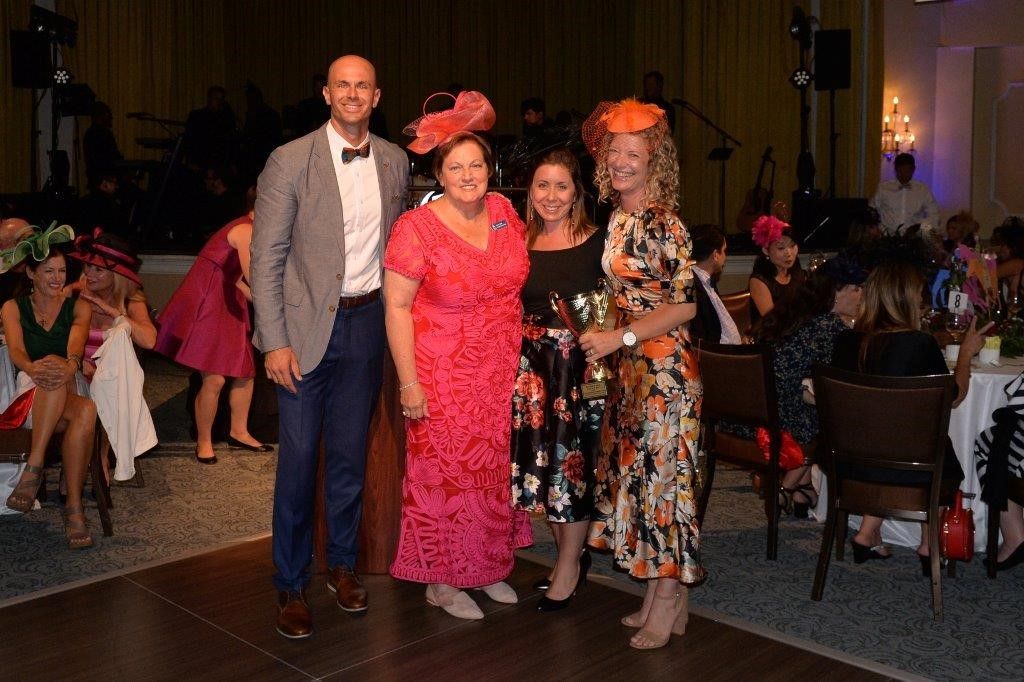 There were no shortage of large derby hats, fascinators, bowties, and colorful pants as guests attended the Coronado School Foundation A Day at the Races Benefit Auction at the iconic Hotel del Coronado on October 19th. Donna Salof and Angela Stanley co-chaired the gala with the support of incredible volunteers as well as the CSF Board and staff.  Guests kick-offed the evening at the Paddock Reception held at the Hotel del Coronado's newly renovated Vista Walk where they enjoyed the sounds of solo guitarist, Matt Heinecke, hors d'oeuvres, libations and breathtaking sunset views.
Attendees then trotted their way to the Grand Ballroom with a live trumpet call to post.  Guests were transported to A Day at the Races with winner circle red roses and horse statues adorning the tables at the sold-out event which included many new Coronado parents and community members.  Lovely ladies in their fanciest derby hats and gents in their finest bowties had the opportunity to participate in the Lucky Longshots horse racing game with five former Kentucky Derby races broadcast throughout the night, enter and vote in the "Best Hat" and "Best Bowtie" competition, and enjoy a specialty Kinzel Cocktail poured down a horsehead ice luge.  A three-course, Derby-inspired meal, created especially for the evening by the Hotel Del culinary team was served and included a "Hat at the Race Track" white chocolate mint mousse dessert complete with bourbon cremeux and red fan.  
This year's Raise your Paddle initiative was focused on "Stocking the iLabs"! iLabs (short for innovation lab) are the new technology-maker spaces at each CUSD campus designed to promote innovation and collaboration through real-world problem solving. Thanks to the many generous donors in the room, funds were raised to purchase Promethean ActivPanel Boards, Glowforge 3D Laser Printers and Project Lead the Way STEM kits for use in these new spaces.  The rousing Live Auction featured a Kentucky Derby and Kentucky Bourbon Trail Package among other special vacations and dining experiences.   To close out the night, the very popular Crab-tucky Derby featured hermit crab racing and prizes.  Guests pranced to the sounds of the Encore Entertainment 8-piece live band with dancing jockeys until late in the evening.
The night would not have been possible without generous donors including Presenting Partner Donna Salof and the fabulous support of Harold Rapoza, President & GM, Hotel del Coronado and the Del Team. Sincerest thanks to event partners Mary Jo Morgan, Swinerton, Alan Kinzel Professional Realty Group, The Clements Group, MRV Law, Esthetica of San Diego, Isabella Avenue Dentistry, Pacific Western Bank, Spiro's Greek Café, Boisset Wine Collection, Ken Morris, CFA, CFP Merrill Lynch, Surtronics, Inc., Molly Haines McKay, Broker Associate Berkshire Hathaway, Kari Lyons, Realtor, California American Water, Cavanaugh Construction, Coronado Bliss Salon, Donna Salof, The Hart Family, Loews Coronado Bay Resort, and Blue Bridge Hospitality.
The annual Online Auction closed on October 28th.  Eager bidders were raising money down to the last seconds as participants competed for items. Brought to you by returning partner Mary Jo Morgan, Realtor, the Online Auction featured nearly 250 packages with gift cards, memberships, and unique items from Coronado teachers and staff. 
Final proceeds are still being calculated.  To support local public schools through the Coronado Schools Foundation, please visit csfkids.org or call Leanne Anderson, Director of Development, at 619-437-8059, ext. 1.  Donations are tax deductible to the full extent of the law.