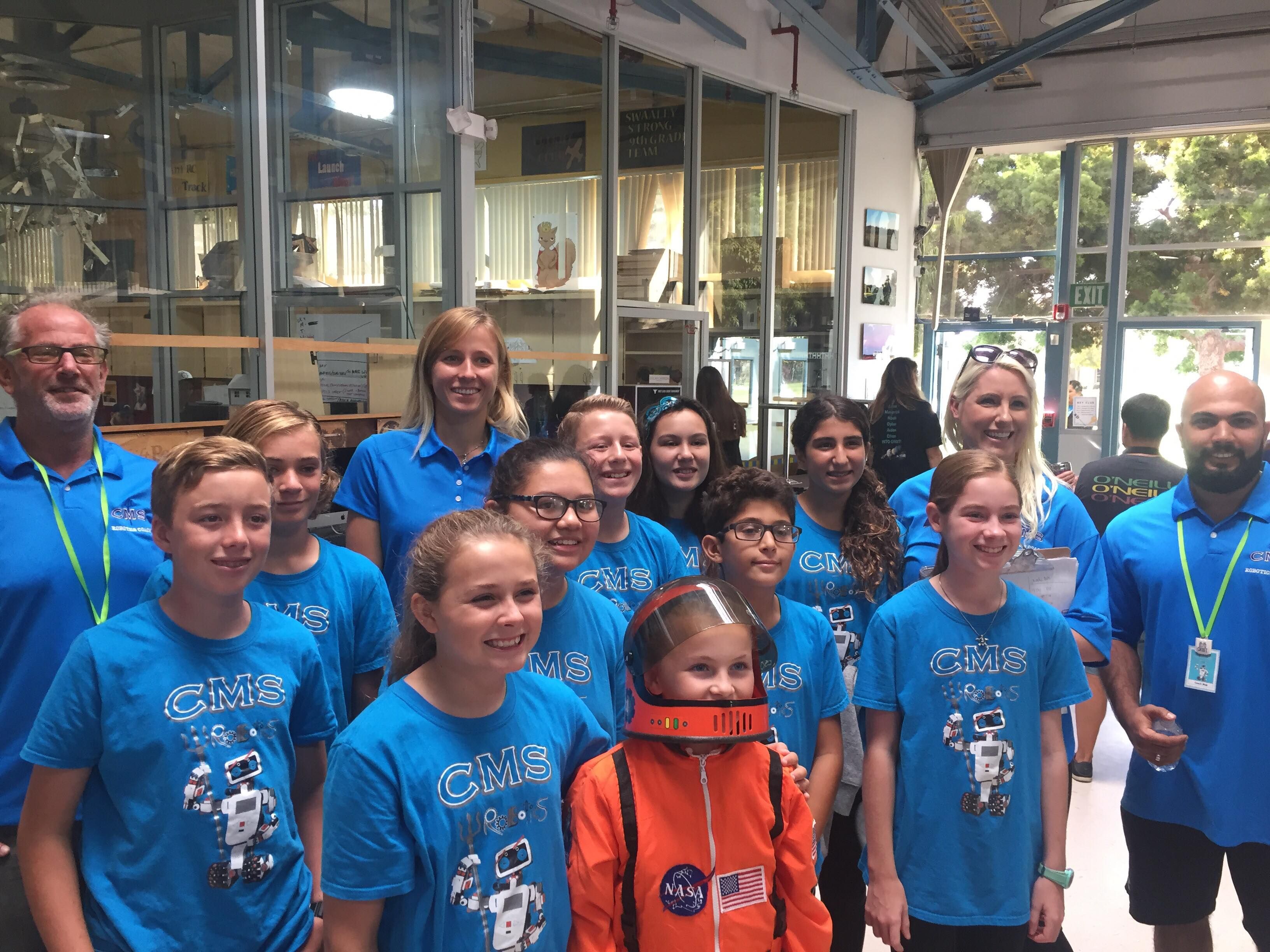 Thanks to funding from the Coronado Schools Foundation Site Grant, Coronado Middle School (CMS) now has an active Robotics Triton Tribe Team under the guidance and mentorship of  Roberta Lenert. 
The ROBOTICS kids are really thriving as they program, engineer, code and create as teams to successfully conduct missions with their robots. There are four engineers (Aerospace, Mechanical, Structural and Electrical engineers) and two coaches fully committed, mentoring and working with all three teams preparing for their next competitions at LEGOLAND! The teams have Skyped with NASA Astronaut Gerald P Carr and 2 NASA pilots, as well as did a question and answer session with NASA Engineer Pete Waydo, to help prepare their problem and solution presentations. All teams were able to showcase their projects with mayor Richard Bailey and we even got him to watch our Virtual Reality headset. It is not easy work, but these kids are dedicated and love what they are learning.  They have been practicing weekly, sometimes 3-5 times a week to prepare to compete against teams that have been together for years.
Robotics Team member Jack Harvey says, "I really enjoyed the Robotics! This competition taught me that working as a team will get you further than working alone. That's because there are so many different and complicated  jobs that everybody needs to do in order to succeed."
And Ryan Dermody says, "I've learned a lot, a lot about working as a team.  I've had a lot of fun!  I'm loving learning how to code as a team. I like the feeling of competition. It makes me always want to do better."
Even though this program is new for 2018-19, their teams is bringing in big results. Triton Tribe won 2nd place in Core Values and 2nd place in the Qualifying First Lego League Tournament. Coronado Schools Foundation is proud to be supporting such an amazing group of educators and students.
#FundedByCSF