CSF raises funds in myriad ways to fuel the STEM (Science, Technology, Engineering, Math) and Arts Pathways programs impacting all 3200+ students enrolled in Coronado schools. From our annual Gala each fall, to the popular Telethon in the spring, our opportunity drawings, business partnerships, and HIVE365 parent giving campaign, there are countless ways you can contribute so every student thrives!
CSF has returned over $12 million to Coronado schools since our inception in 1982.
Why does giving to CSF matter? In 2013, the California State legislature enacted the Local Control Funding Formula, sending all property tax dollars to Sacramento for distribution across the state. Despite the property taxes our residents pay, Coronado Unified School District receives $1600 less per child than San Diego Unified and other districts! That's why it is imperative that we raise funds for our school children. 
---
STEM and Arts Pathways Programs Fuel Student Success
As we embark on a new academic year, Coronado Schools Foundation (CSF) wants to thank our very generous community for their continued support of our students and schools. Because of your past donations, CSF  provided funding to pilot the STEM and Arts Pathway programs launched at each school site in the district in 2019-20. More than 3,100 students benefited from these enrichment programs, designed to spur creativity, innovation, and passion as students engage in learning about Science, Technology, Engineering, Math, and the Arts.
"The goal of the STEM and Arts Pathways is to ensure that all children, beginning as early as TK through 12th grade, receive hands-on exposure to STEM and Arts enrichment activities that provide educational pathways for the rest of their lives," explains Dr. Megan Battle, CUSD Director of Learning. "By ensuring children have early, ongoing, and innovative instruction in the critical subject matter of the sciences, technology, engineering, math, and the arts, we hope to fuel their interest and ignite their passions at a very young age."
These programs were a resounding success. Every child enrolled at both Silver Strand and Village Elementary Schools had weekly access to the state-of-the-art Innovation Labs (iLabs) thriving on each of those campuses. Students learned a variety of skills in iLab, including how to navigate iPads for the youngest of learners, to building manipulative robots for older students. Elementary aged students also had weekly instruction in Visual and Performing Arts (VAPA) classes, providing hands-on art instruction that otherwise would not have been possible due to the lack of state funding.
Designed as learning pathways, these programs continue through Coronado Middle School (CMS) and Coronado High School (CHS), where students' opportunities for educational enrichment expand and advance.  In addition to the state-of-the-art iLab at CMS, students had the opportunity to take Intro to Coding and Coding courses, focusing first on the acquisition of basic coding skills, then advancing to more rigorous instruction creating animations, programming Ollie and Sphero robots, while gaining advanced skills in code languages like Python and Swift Playgrounds. Middle schoolers also took Engineering courses, gaining the background required to advance into Engineering at CHS. Similarly, visual and performing arts instruction progresses at CMS and CHS, to include KCMS Broadcasting, Digital Media and Film, AP Music Theory, Band, and Advanced Art among other more rigorous classes.
Next year, your donations to CSF will continue to fund these STEM and Arts Pathway programs at every CUSD school site.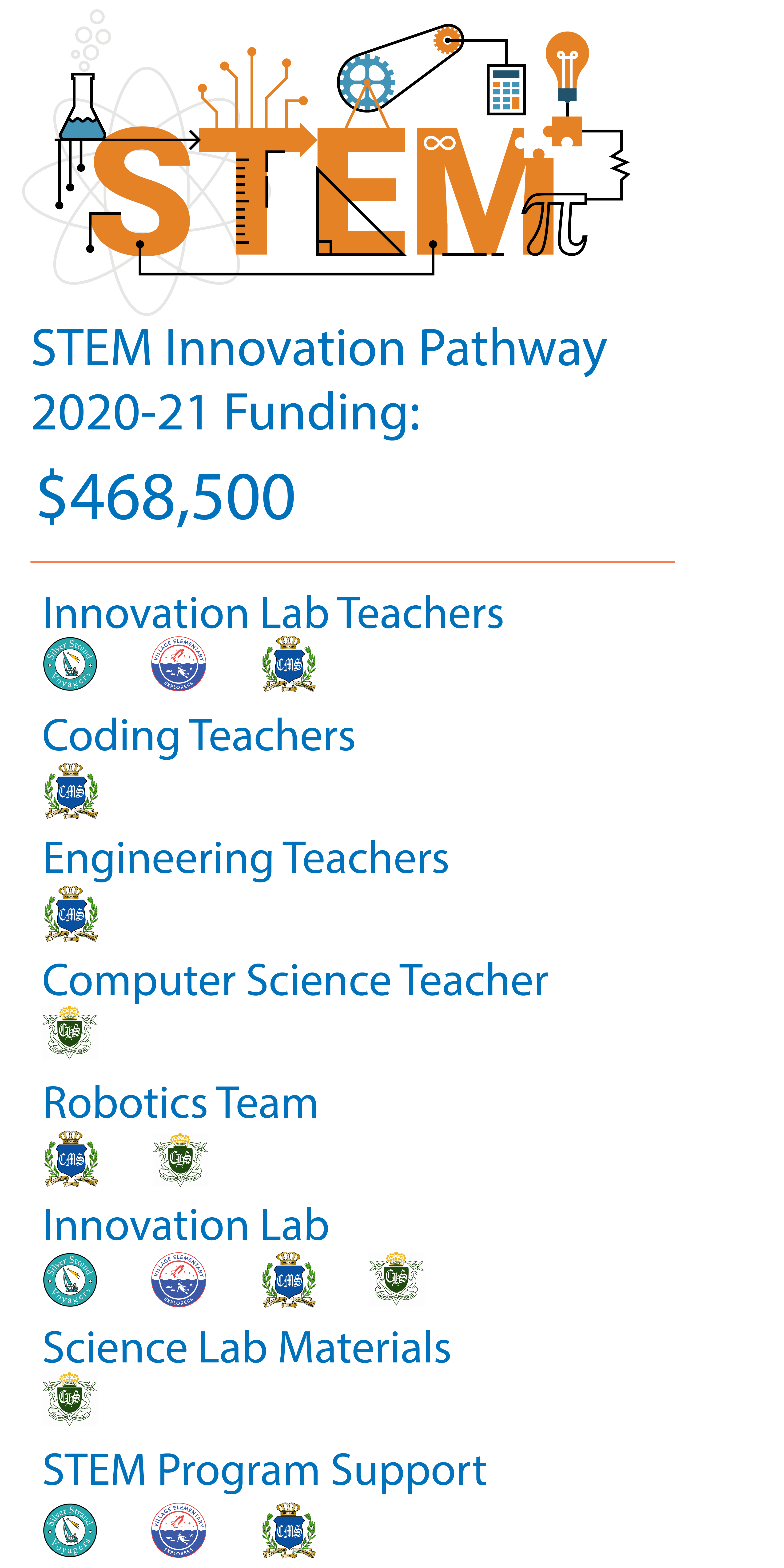 ---