CSF raises funds in myriad ways to fuel the STEM (Science, Technology, Engineering, Math) and Arts Pathways programs impacting all 3100+ students enrolled in Coronado schools. From our annual Gala each fall, to the popular Telethon in the spring, our our opportunity drawings, business partnerships, and HIVE365 parent giving campaign, there are countless ways you can contribute so every student thrives!
CSF has returned over $11.5 million to Coronado schools since our inception in 1982.
Why does giving to CSF matter? In 2013, the California State legislature enacted the Local Control Funding Formula, sending all property tax dollars to Sacramento for distribution across the state. Despite the property taxes our residents pay, Coronado Unified School District receives $1600 less per child than San Diego Unified and other districts! That's why it is imperative that we raise funds for our school children. 
---
2019-2020 PROGRAM FUNDING
During the 2018-19 school year, CSF and CUSD staff worked collaboratively to create two distinct pathways that provide educational enrichment for every student in grades TK through 12. They are our STEM (Science, Technology, Engineering , Math) and Arts Pathways. 
These programs provide transformative learning experiences at each grade level that empower students to develop the in-demand knowledge and skill sets they need to succeed. Students work collaboratively solving real world problems, designing and building innovative solutions, and discovering the vast possibilities that exist for seeking answers to complex issues. Read more and view funding charts
Revamped Funding Pathways for Coronado Unified 2019-20
Over the years, the Coronado Schools Foundation (CSF) has continued to be responsive to the needs of Coronado Unified teachers and students. During the 2018-19 school year, CSF's Program Committee chaired by Claudia Gallant, worked closely with Coronado Unified School District (CUSD) staff, and established a goal of revising existing CSF Program Funding Guidelines for Site Grants. With the goal of streamlining messaging for potential donors and aligning resources in a thoughtful and cohesive manner, staff reviewed existing programs to develop two distinct pathways that provide value added experiences for students grades TK through 12:
STEM Innovation Pathway, encompassing science, technology, engineering and math opportunities with all campuses using Project Lead the Way curriculum
ARTS Innovation Pathway, encompassing both the visual and performing arts opportunities.
Working closely with site administrators and leadership teams, CSF Program Committee and staff ensured programs required to nurture the whole child were provided. As an example, with CUSD taking on funding for the Library Tech at Silver Strand, Technology Resource Teachers at all campuses, and Academic Support and Enrichment (ASE) teachers at both Village and Silver Strand, CSF funding now clearly supports the STEM Innovation and ARTS pathways, ensuring every child has access to equitable, appropriate grade level experiences that can be built upon as they progress through our instructional programs.
This also provided the opportunity to take into account current grant funding available to each campus, like the Department of Defense Education Activity (DoDEA), in order to ensure funding is truly equitable across the campuses. While each campus also has a PTO that provides support, Coronado High School also has funding for Coronado Art Education Foundation and Career  Technical Education (CTE) which was factored into the funding.
Coronado Unified values and appreciated Coronado School's Foundation grants of $787,000 with total funding over $900,000 with funds returned during the school year. Without the generous donors, The Lipp family Foundation, Vivian Nelson Foundation, and business partners, these programs would simply not be possible. Thank you, CSF supporters!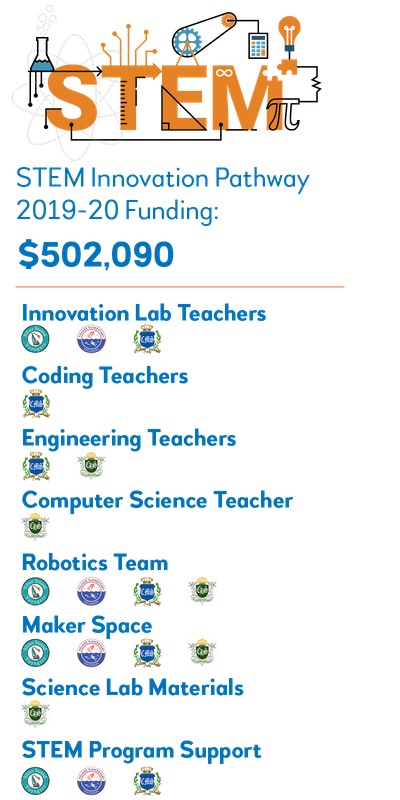 ---