Throughout the CSF fiscal year (July 1st to June 30th), funds are raised through donor annual giving campaigns, foundation grants, and two major benefit events: the fall Benefit Auction and spring Telethon.
During the school year, funds are returned for specific projects, annual fund-a-need at the Benefit Auction, private donor scholarships for graduating seniors, and designated donations. At the end of the school/fiscal year, the balance is divided equitably among the school sites through Site Program Grants.
Over $11.5 million dollars have been returned since the Foundation was incorporated in 1982.
Since the Local Control Funding formula was enacted by the California State legislature in 2013, Coronado Unified School District now receives $1,600 less per child than San Diego Unified.
Coronado Unified is not a Basic Aid District. That means that property taxes, while high, do not stay locally. They are sent to Sacramento and distributed across the state based on the Local Control Funding Formula.
---
Each year, the CSF Board of Directors provides program funding guidelines to Coronado Unified for each campus' leadership team to follow each spring when developing their site's Program Funding Grant Request for approval by the CUSD Director of Learning and District Technology Resource Teacher. Once approved, these proposals are submitted to the CSF Chief Executive Officer and Board of Directors for review and a formal presentation is made to the Board. 
2019-2020 PROGRAM FUNDING
During the 2018-19 school year, CSF and CUSD staff established a goal of revisiting existing CSF Funding Guidelines. With the goal or streamlining messaging for potential donors and aligning resources in a thoughtful and cohesive manner, staff reviewed existing programs to develop two distinct pathways to provide value added experiences from students grades TK through 12 in the areas of Science, Technology, Engineering and Math (STEM), and Arts.
Through these pathways, students will have access to equitable, appropriate grade level experiences that can be built upon as they progress through our instructional programs. Read more and view funding charts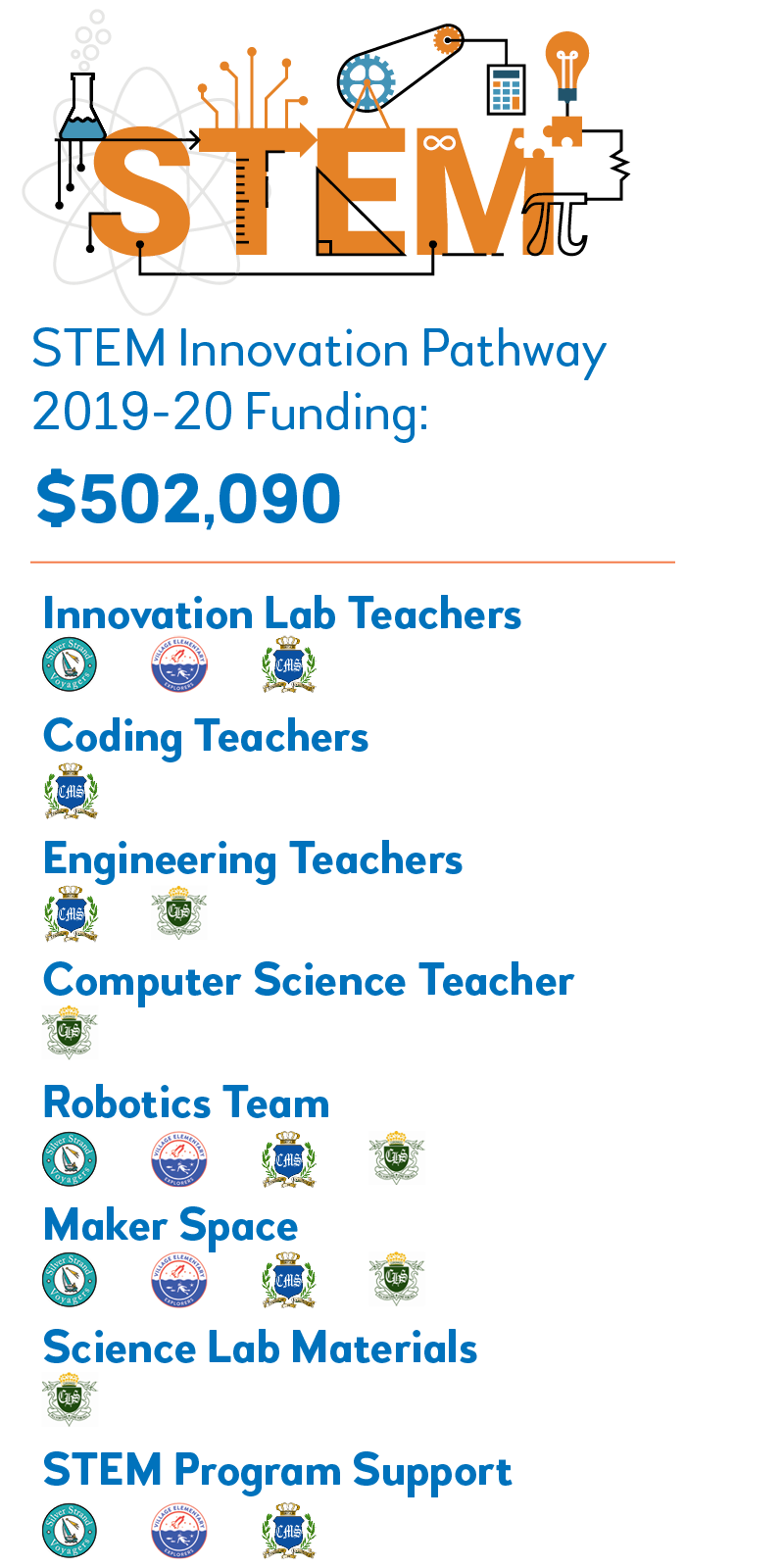 ---