It would be a CRIME if you missed our first-ever Virtual Benefit Auction on October 17th!
Nothing stopped this year's Coronado Schools Foundation Auction…not even a bad guy! During this year's "Who Dunnit?" themed event, families dined at home, watched and participated in the virtual event & solved a mystery for a chance to win some criminal prizes. It's a family-friendly event we hope you didn't miss!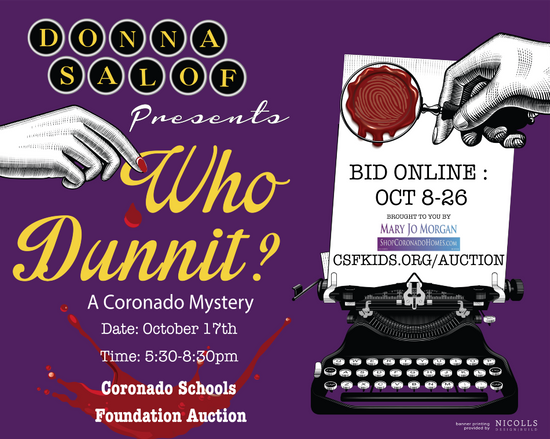 The annual CSF fundraiser, which took place on October 17th and presented by Donna Salof, invited families (yes, kids are invited too!) to dress in their "mystery best." (Think: Clue-inspired, detective-garb, Sherlock Holmes-swank.) And yes, there will be a costume contest and a prize for the sharpest-dressed detective team. The fully-virtual event will air live on csfkids.org/whodunnit and csfkids.org/auction from 5:30 to 8:30pm complete with an interactive LIVE auction and Fund A Need. Back by popular demand, the CSF Online Auction, will run from October 8th to 26th on csfkids.org/auction.
Thanks to all who joined us for our Coronado Mystery supporting CSF!
2020 Benefit Auction Business Partners