How To Bid: Clues on the Bidding Process
We can't wait to "see" you at our first-ever Virtual Benefit Auction! All bidding will be done through your cell phone, computer or tablet so we've outlined the steps below. Watch this helpful video to get started:
Follow the Clues Below to Get Started...
1. Purchase Your Mystery Kit Ticket by Clicking Here! 
You will receive a confirmation email and text message following your ticket purchase. By purchasing your tickets via the link above, this also registers you for the various fundraising elements and expedites your registration process at the event.
2. Register Your Device in Advance
From the email or text message received, you will be prompted to complete a registration user profile and add a credit card for expedited checkout. Be sure to set this all up in advance so you'll be ready to go! 
How To Bid: Four Ways!
Once the auction is open for bidding, registered guests will receive a text notification. There are 4 ways to bid:
1.   By Smartphone: Click the link in your welcome message. It will take you to a personal bidding page. Click on an item and place a bid, it really is that simple.
2.   By Text: Text the item number and amount to the welcome message you receive, (i.e. 101 500), no dollar signs or decimals are needed.
3.   By Computer: Click on an item and place a bid.
4. By Phone Line- Simply call 619.437.0273 to talk to a CSF volunteer, who will happily help you place your bid.
All LIVE items close at 7pm on October 17th and winning bidders will be announced LIVE on air. Be sure to tune in!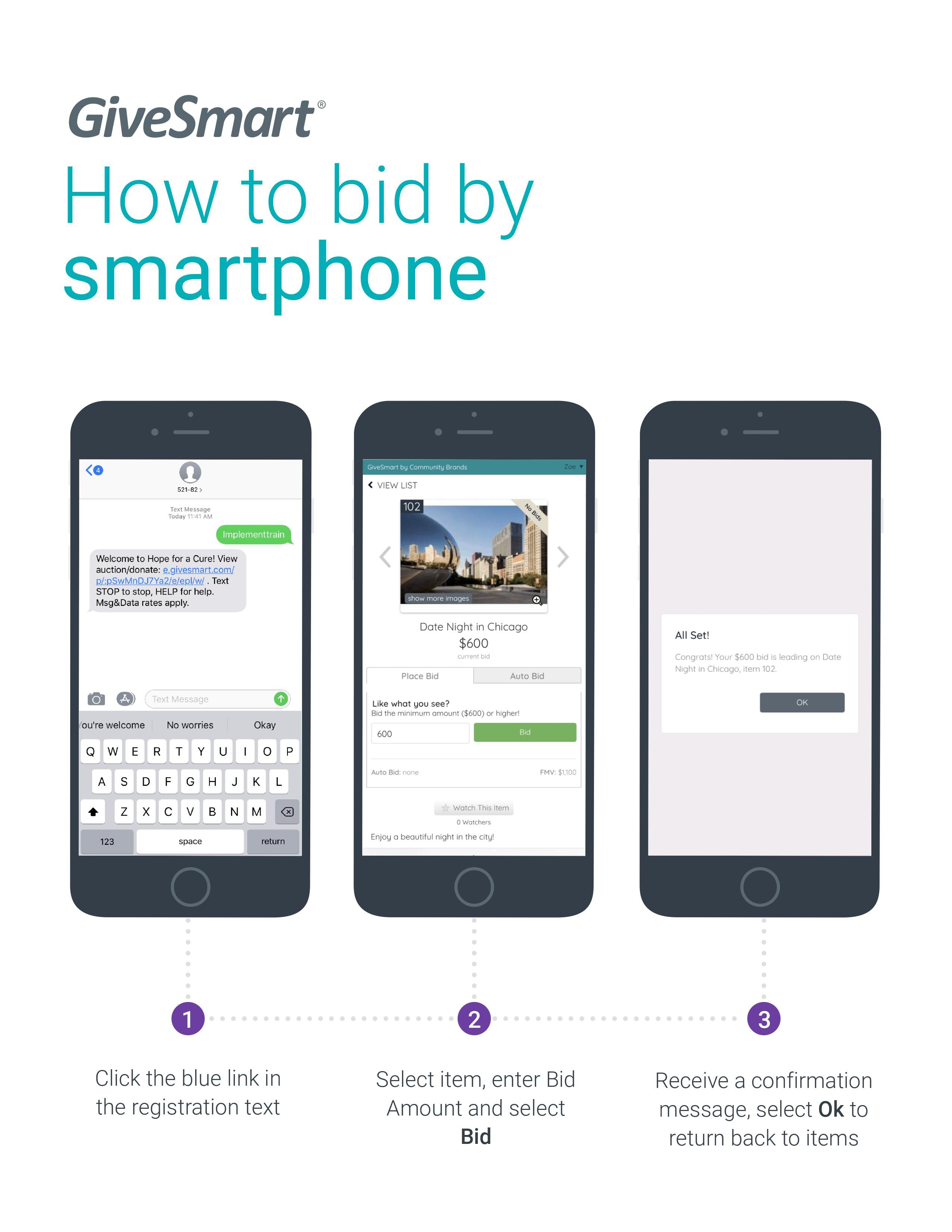 Bidding Via Smartphone:
Click the blue link in your welcome text message and it will take you to your personal bidding page. Click on an item you would like to bid on. The GiveSmart smart system prepopulates with the next minimum bid so all you have to do is press BID. If you'd like to go higher just enter a new amount and press BID. To have the GiveSmart smart system automatically bid for you to a designed amount, please select the AUTO tab and enter a higher amount. The system will bid for you incrementally up until your designated amount only if someone bids against you.
Single Bid vs. Autobid 
A single bid can be placed as a one time bid for any amount. An autobid can be placed and set at your maximum amount you are willing to spend. With autobid, our system will place your bid at the minimum amount needed to lead. When you are outbid, our system will bid automatically for you until your maximum is reached.