It would be a CRIME to miss our first-ever Virtual Benefit Auction on October 17th!
Nothing is stopping this year's Coronado Schools Foundation Auction…not even a bad guy! During this year's "Who Dunnit?" themed event, families will dine at home, watch and participate in the virtual event & solve a mystery for a chance to win some criminal prizes. It's a family-friendly event you won't want to miss!
REGISTRATION IS NOW OPEN! 
Click on the Clues Below to Get Started...
Crime Timeline:
NOW: Order your Mystery Kit or Super Sleuth VIP Package Online! 
A $100+ donation gets you a Mystery Kit, program, entry into photo contest & entry to bid on LIVE items & Fund A Need
A $500+ donation gets you a Super Sleuth VIP Package, which includes the Mystery Kit plus a delicious Whodunnit Dinner for four & complimentary bottle of wine to sharpen your critical thinking skills. Names and donations will also be read live in recognition.
October 1st: Get your Sherlock-chic costumes ready & submit your photo for the contest!
October 8th: Online Auction opens...get your bids ready! 
October 12th-16th: Pick up your Mystery Kit at the CSF Office (Located at 201 Sixth Street) and
support your local restaurants by ordering your Whodunnit Dinner for the 17th!
(Participating Restaurants include Tartine, Serrano's, Bouna Forchetta, Bistro D'Asia, The Tavern & High Tide)
October 15th: Last day to order your Mystery Kit! 
October 17th: Submit your pic for the Photo Contest by 5:30pm! Now time to solve the "crime!" Live Auction & Fund a Need from 5:30-8:30pm
October 26th: Online Auction closes
Uncover all the additional details here!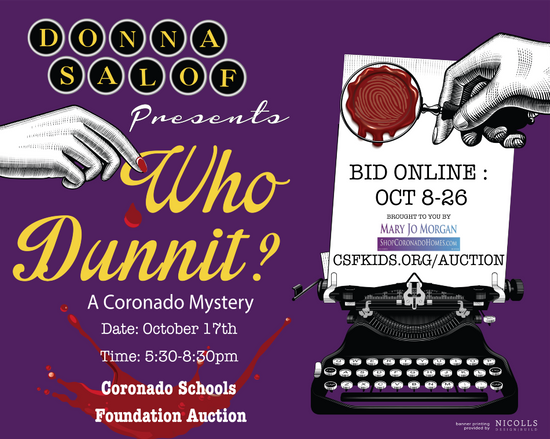 The annual CSF fundraiser, taking place on October 17th and presented by Donna Salof, will invite families (yes, kids are invited too!) to dress in their "mystery best." (Think: Clue-inspired, detective-garb, Sherlock Holmes-swank.) And yes, there will be a costume contest and a prize for the sharpest-dressed detective team. The fully-virtual event will air live on csfkids.org/whodunnit and csfkids.org/auction from 5:30 to 8:30pm complete with an interactive LIVE auction and Fund A Need. Back by popular demand, the CSF Online Auction, will run from October 8th to 26th on csfkids.org/auction.
Registration for "Who Dunnit? A Coronado Mystery" is NOW OPEN.
2020 Benefit Auction Business Partners