Bid for Kids at the CSF Online Auction: Click Here to Bid Now! 
Shop for our schools! Our popular Online Auction, sponsored again this year by Mary Jo Morgan, is open for bidding until Nov. 1st, offering more than 130 unique items, including great local deals & steals from Coronado and beyond!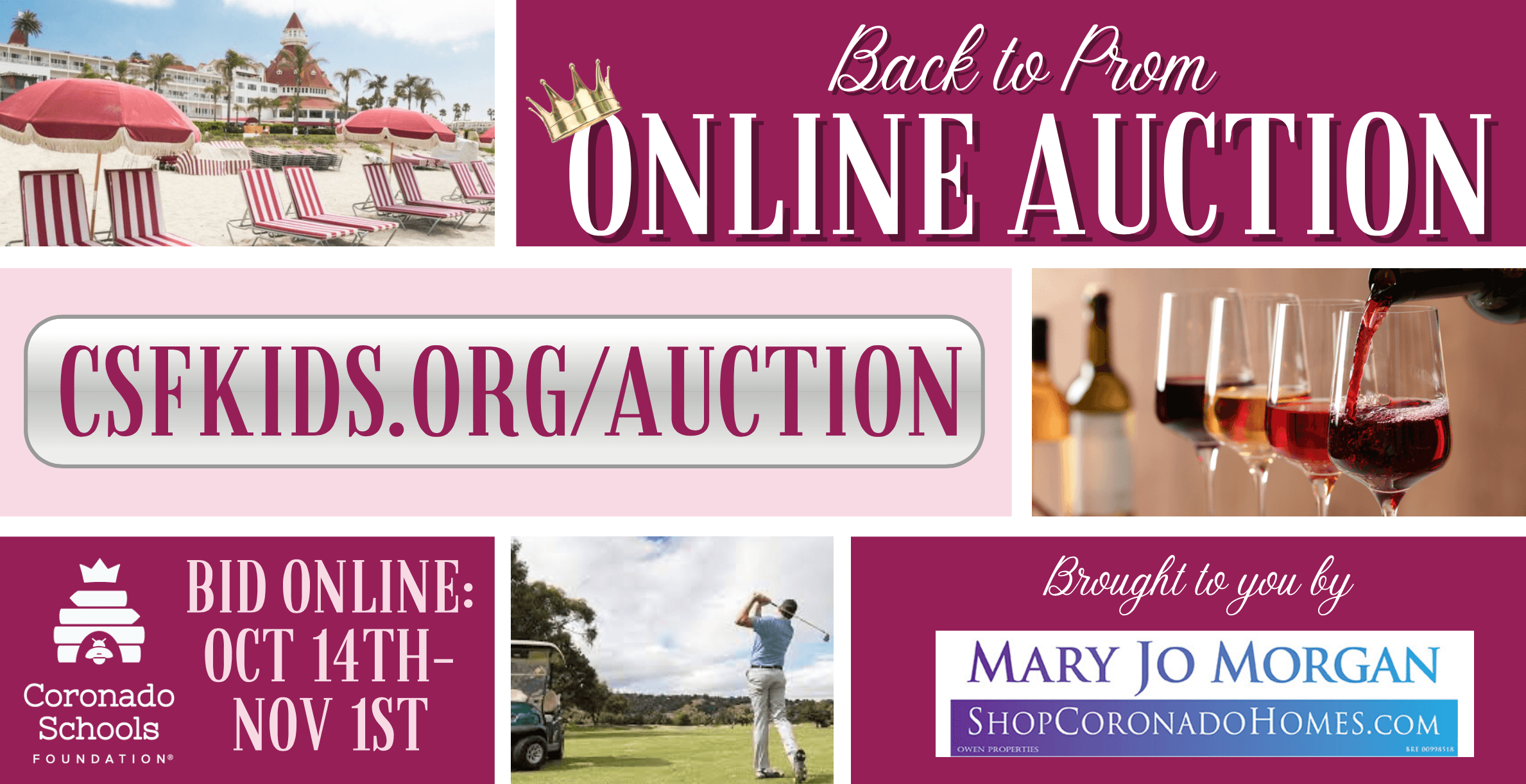 ---
Check out this year's amazing Live Auction items! 
#701: Harley Fat Tyre Scooter

Ride like a Street King or Queen! With great comfortable design and speed like no other electric series of scooters, this scooter by far overtakes all the other scooters available in this range. The rider can use switches to control the brakes and speed, which are provided on the handle of the vehicle. These electric scooters are designed to be simple and get the battery charged with electric power. Includes removable battery.
Features:
2000 W heavy duty motor High-capacity lithium battery Tubeless tires
Big front super bright light LCD speedometer
Goes up to 30mph

Value: $2,500
Donated by: Alexis Reitmeyer & Coronado Bliss Salon

#702: Pizza, Party & Tunes for 12 by the Sea

Private Party for 12 includes pizza-oven pizzas, libations and two hours of music from Matt Heinecke at an exquisite oceanfront home! You and 11 of your best friends will enjoy a beachfront party at the home of Donna Salof with the authentic handmade pizzas from a state-of-the-art pizza oven and craft cocktails. Create customized made-to-order pies while jamming to rock n' roll from local celeb Matt Heinecke.

Terms & Conditions: Must choose date mutually agreed upon by all parties. See gift card for additional details and expiration. Matt Heinecke: Redeemable Sunday- Thursday only. Must be redeemed between November 1, 2021-October 17, 2022 Additional performance time is available subject to current rates and availability. Gratuity not included. Covid-19 Restrictions Apply.

Value: $2,000
Donated by: Donna Salof, Matt Heinecke & Rhett & Olivia Henrich

Need braces for you or a family member? Then this package is for you! Dr. Joe Mullins and his attentive staff provide everything needed from the initial examination, developing the necessary records (including x-rays, photos, and study models), fitting full braces, and, finally, one set of retainers. When you or your loved one has completed the process, you'll have a lot to smile about!

Terms & Conditions: Tax & shipping may apply. Must be a standard 24-month (or less) case and must be cleared by a general dentist within six months of starting treatment; excludes anyone who is a jaw surgery case; must redeem package by 10/17/2022. Orthodontic insurance benefits, if applicable, are paid to Dr. Joseph Mullins. All appointments take place in the convenient Coronado Office. This package may be restricted if Covid-19 Guidelines prohibit it.

Donated By: Joseph Mullins, DDS, Mullins Orthodontics

#704: Exclusive Staycation: Manchester & Maserati

Spoil her or him with this two night stay in a 1-bedroom Penthouse suite with breakfast for 2 daily and dinner for 2 at Sally's Fish House and Bar at the Manchester Grand Hyatt harborside in Downtown San Diego. Pull up to the valet in style with a Maserati 48 hour experience! (Best gift ever...)

Manchester Grand Hyatt, 1 Market place, San Diego, CA 92101
Terms & Conditions: Based on availability with blackout dates: 4th of July, New Years Eve and during Comic Convention. Expires 10/31/2022. Dinner includes an appetizer, entrée and dessert for each person. Excludes alcoholic beverages. Can only redeem @ Manchester Grand Hyatt San Diego. Maserati of San Diego Terms & Conditions: 48 hour Maserati Experience, 48 hours up to 150 miles. Picked up Monday- Saturday after 10 am. Model determined based on inventory. 2 weeks advanced booking required. Must be 21 or older.

Value: $7,500
Donated by: Manchester Grand Hyatt & Maserati of San Diego

#705: A Day in Valle de Guadalupe for 10

This is a one-of-a-kind experience! You and your guests will enjoy brunch at Bruma Wine Garden with Chef David Castro, wine tasting at Lechuza Vineyard with Winemaker Kris Magnussen, then enjoy a private dinner with Winemaker Demian Sandoval at his winery Shedeh by Chefs Flor Franco and Arnulfo Sandoval.

Terms & Conditions: Dates to be mutually agreed upon. Transportation and hotel accommodations are not included but can be arranged at cost to guests. Expires 10/31/2022.

Value: $2,900
Donated By: David Castro, Demian Sandoval & Chef Flor Franco

#706: Ice Skating for 50 at the Hotel del Coronado

Celebrate your home for the Holidays! What could be better than 49 of your best friends and family joining you on a private one-hour ice skating session overlooking the Pacific Ocean? The Hotel del Coronado is celebrating winter wonderland with Skating by the Sea, with the oceanfront
Windsor Lawn transformed with thousands of lights, towering Christmas trees, and festive décor from the end of November through December.

Terms & Conditions: Includes skate rentals for you and your guests, hot cocoa and toddys; One per person. Expires 12/31/21. Not Valid on Holidays or Special Events. No Extensions. No replacement gift cards. Skating available mid-week only between Nov 24th-Dec 31st.

Value: Priceless
Donated by: Hotel del Coronado

#707: 2021 Brand New ICON Golf Cart

Cruise the streets of Coronado in style in your brand new, i40L 4-Seater Street Legal Golf Cart in a Caribbean Blue!
Features:
48 Volt AC 4kw
US Battery/Trojan Lead Acid Onboard Charger 10-20 miles per full charge Lift kit
Charge Indicator, Horn, Speedometer, Gauges, Side Mirrors & Seat Belts

Terms and Conditions: Additional accessories are available at additional cost. Sales Tax and Licensing fees are the responsibility of the winner. No cash value. Golf cart can be traded to a 6-seater at additional cost.

Value: $12,284
Donated by: San Diego Golf Carts & the Gossage Family

#708: Private Tour & Gourmet Dinner for 8 at La Jolla Farms Mansion

Private tour for 8, including a gourmet dinner by Chef Flor Franco with Fine Wines at the stunning oceanfront estate of Bill and Michelle Lerach in La Jolla. You will experience an incredible VIP private tour of one of the finest and largest private collections of African and pre-Columbian art, led by Bill Lerach, as well as a tour of the estate's incredible aviary of exotic birds led by Michelle Lerach. You and your guests will enjoy a unique experience!

Terms & Conditions: Dates are subject to the host's schedule and approval in 2022. Expires 12/2022.

Value: $2,000
Donated by: Bill & Michelle Lerach and Flor Franco

#709: Yacht Cocktail Cruise for 8 Plus Overnight Stay on the Glorietta Bay

A PLAY DAY on San Diego Bay! You and seven friends will enjoy a Bay Cruise on this beautiful 40ft Tiara 3900 Sovran Yacht with licensed captain for
3 hours. Sip cocktails and enjoy lunch or happy hour with a $500 Bali Hai gift certificate. Then dock at a slip on Glorietta Bay Marina and spend the night on the boat (two people).

Terms and Conditions: Expires October 2022. Can customize Bay Cruise experience with owner. No cash value. Date of event mutually agreed upon by both parties.

Value: $2,500
Donated by: Heather & Dan Frank

#710: Bourbon, BBQ & Band for 25!

Bourbon on the Rocks while you and 24 of your friends rock! What could be more fun? Bourbon tasting and cocktails for 25 from vomFass, delicious Barbeque and all of the fixins' (for 25) from our own Luis Madrid's Lil' Piggy's Bar-B-Q, and three hours of live music from Coronado's talented local cover band – MAYDAY!

Terms and Conditions: Must be 21 and over to attend. Expiration Date: October 31, 2022. Mutually agreed upon date for all parties.

Value: $2,000
Donated by: Full Glass Enterprises, Luis Madrid, Lil' Piggy's Bar-B-Q MAYDAY Band (Leanne Anderson, Dan Frank, Tee Lynn, & Tony D)