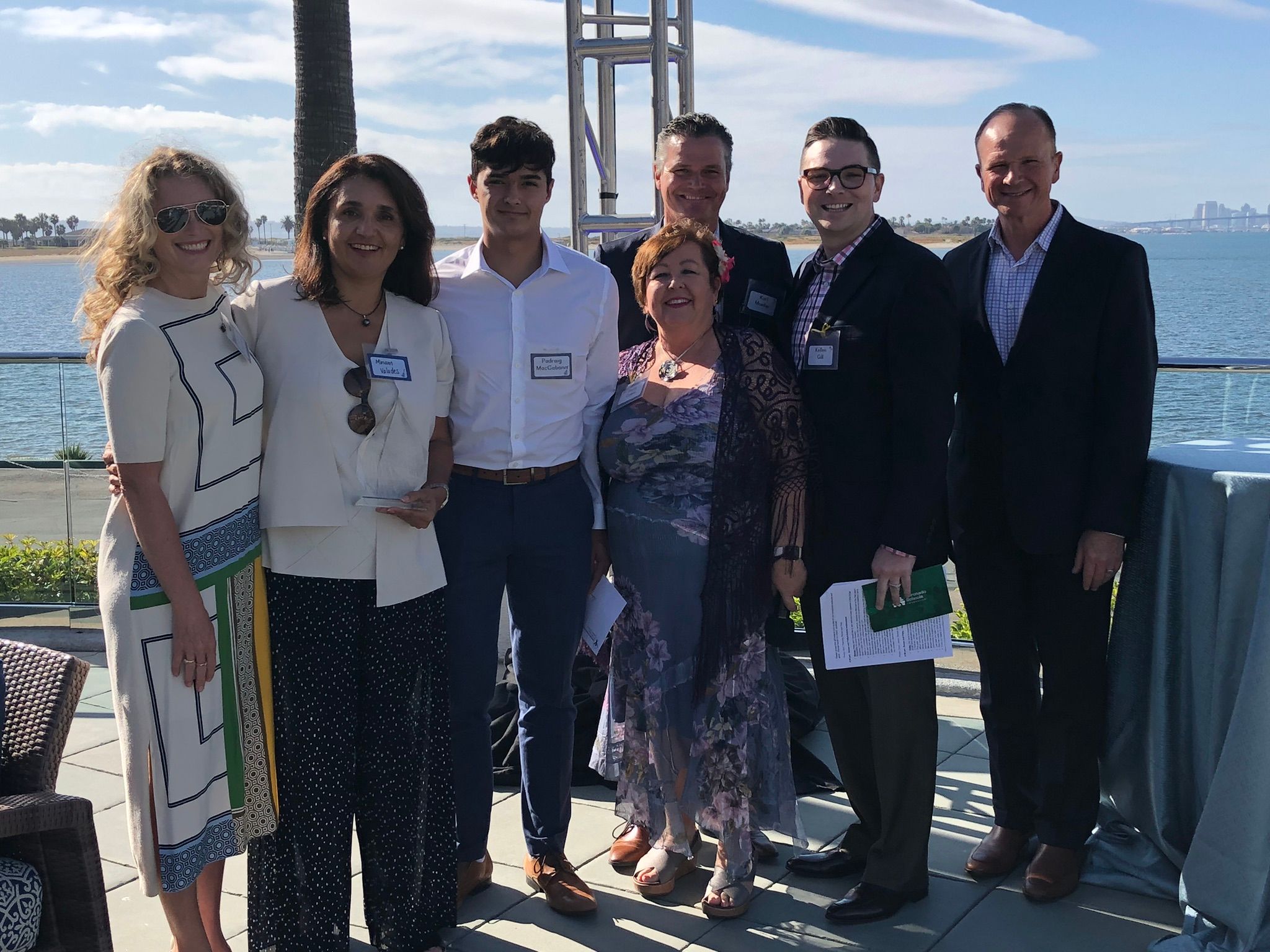 Coronado Schools Foundation Board and staff acknowledged and thanked key donors and volunteers at the recent Donor Appreciation event, generously hosted by Loews Coronado Bay Resort on May 5, 2019. Held on the scenic Bayview Patio, this annual event provides an opportunity to thank donors for their significant support, fueling STEM Innovation and Arts, visual and performing, pathways. 
Superintendent Karl Mueller spoke on the significance of this funding with Coronado Unified receiving $1,500 less per child than 93% of school districts across the state, simply due to student demographics. SUP Mueller introduced Padraig MacGabban, 2018 Coronado High School (CHS) graduate now studying computer science at the University of California, San Diego. While a senior at CHS, Padraig and fellow students designed a mobile application for CSF's Coronado Locals Card program, thanks to the knowledge learned in Mrs. Samora's computer science classes. SUP Mueller commented on the importance of project-based learning in the curriculum, fueled by CSF Program Grants.   
Board Chair Renee Cavanaugh presented the Lifetime Achievement Award to longtime supporters and Coronado High grads, Dave & Jenni Spatafore of Blue Bridge Hospitality. Parents of three Islanders, the Spatafore's are quick to step up to donate in support of many initiatives within the schools and have done so for over two decades.
President & CEO Patty Cowan presented the Five Star Volunteer of the Year award to Miriam Monroy de Valades for her exceptional volunteer service as a CSF Board Member and community volunteer from 2016 to 2019.  
Vice Chairman Kellen Gill announced the rebranding of CSF's Planned Giving Circle to the 'Islander Society' and shared the importance of growing endowment to provide ongoing and perpetual funding for Coronado Unified's 3,100 school children. Patty Cowan honored Jill Hardman, longtime supporter of the fine arts programs within Coronado Unified; the proceeds from the sale of her home will fund enrichment programs within the fine arts in the four schools for generations to come. She also mentioned that a $25,000 gift today will return $1,000 annually for generations to come. 
Renee Cavanaugh also thanked Patty Cowan for her 15 years of service managing the Foundation, acknowledging she will be stepping down as President & CEO as of June 30th. After overseeing 15 Benefit Auctions and Telethons, launching the Business Partner Program, Locals Card, and Summer Enrichment programs, Patty hopes to continue to work with CSF in a part-time Legacy position. "I'm looking forward to continuing to build relationships for CSF, growing the endowment, to support generations of Islanders in the years ahead," noted Cowan. 
To get involved in CSF as a donor or volunteer, please e-mail csf@csfkids.org. For information on the Islander Society, e-mail legacy@csfkids.org.