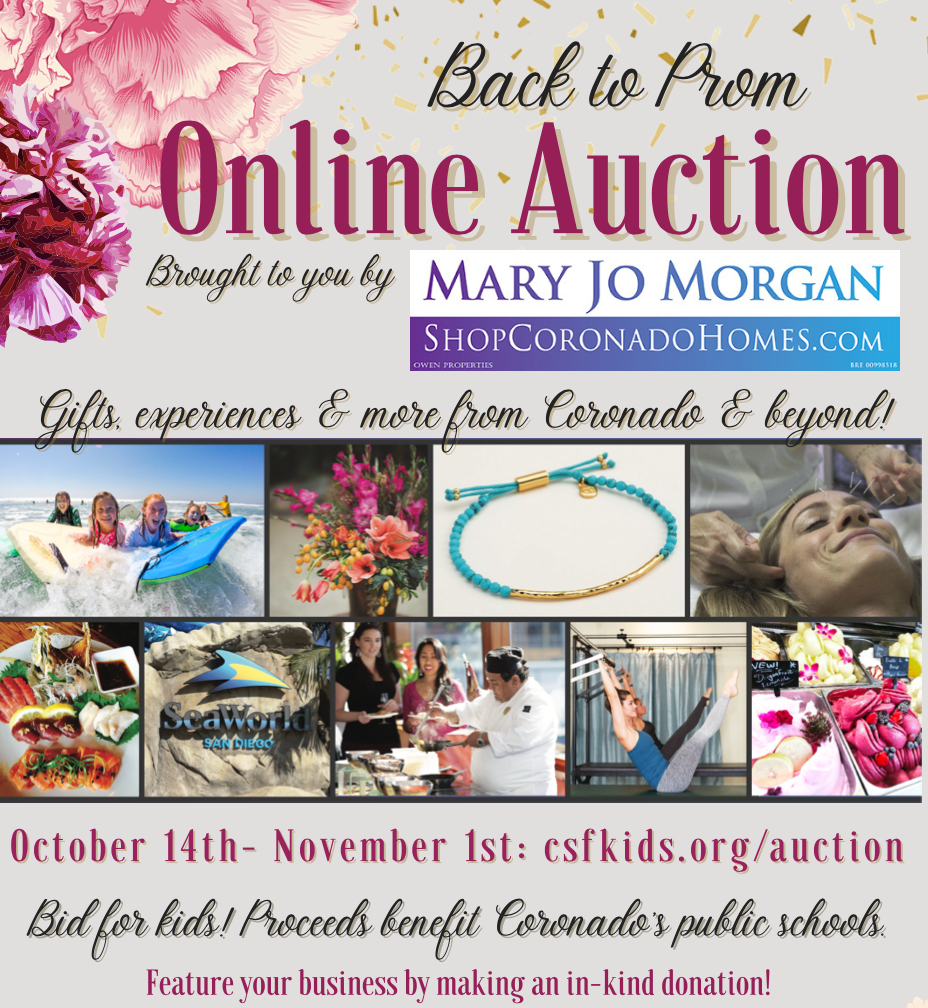 This Prom might be for the adults, but it's most definitely still for the kids…and it's PROM-ising to be an evening to remember! This year's Coronado Schools Foundation (CSF) Annual Benefit Auction, presented by Donna Salof, has the adults heading "Back to Prom" to raise money for the kids, with proceeds benefitting Coronado's public schools through CSF.
This year's extravaganza, co-chaired by Donna Salof and Alexis Reitmeyer, will be a glamorous night full of dinner, drinks and dancing on Saturday, October 23rd at 5pm in the Grand Ballroom at the Hotel del Coronado. Guests are encouraged to embrace the theme and put on their prom best from any decade!
"Donna Salof returns in generous support of the CSF Annual Gala, marking her 5th year as title sponsor and event chair," shares Michelle Gilmore, CEO and President. "She has witnessed the launch of Pathways in grades K-12 in engineering, robotics, instrumental music and choir, all from her support of Coronado's schools and students. We love this theme and can't wait to get our prom on!"
This year, Donna is joined by local business owner and community supporter, Alexis Reitmeyer, owner of Coronado Bliss Salon and Spa. CSF is thrilled to have the support of both of these outstanding women this year. This dynamic duo has a wealth of talent and terrific ideas to make this year's Back to Prom event as memorable as the high school version for all who attend!
Back to Prom Dance Competition
Whether you dance the Jitterbug, the Hustle or anything in between, we are hosting a LIVE Dance Competition during the October 23rd CSF Back to Prom and you're invited to compete!
Bring back your Prom moves by entering our CSF Dance Competition! We are holding virtual auditions for our Dance Competition that will be showcased at our Back to Prom annual Gala and Benefit Auction on October 23 at the Hotel del Coronado in the Grand Ballroom. There is no entrance fee, but a minimum of a $100 fundraising goal per entry. Please submit a 20-30 second video showcasing your routine to csf@csfkids.org. Up to 5 couples/groups will be chosen and will perform (60-90 secs) LIVE, during the Back to Prom event. Deadline for your submission will be September 23rd.  Must be 21 or older to enter.  The winning groups will be crowned and win a grand prize! For more information you can contact our office at 619-437-8059.
#CSFBACK2PROM
---
2021 Benefit Auction Business Partners